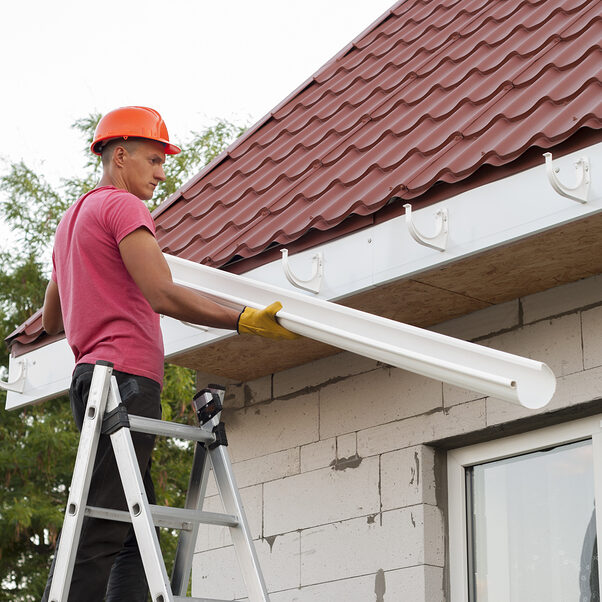 Gutter Installation
It's that time of the year again. Time to have a look around your property and see what maintenance work needs to be done. Suddenly you notice your gutters are looking a little worse for wear, and far beyond salvaging. The only thing left to do is install new gutters. This is not something to be taken lightly, and one should always ensure they only use professionals to get the job done. To see what this should look like, all you have to do is give our experts a call and they will handle the rest.
Material Choice
The most commonly utilized material for gutters is aluminum. It is lightweight, easy to install, and extremely versatile. If you are looking for something a little more artistic, then our copper solutions are for you. They will change color over time, adding something unique to your property. Next in line are our vinyl solutions. This is our fastest growing option, and clients just seem to love the range of advantages it can offer. We also offer a range of metal and plastic solutions for you to choose from. The simple fact is if you can't find it here, it probably does not exist.
It Is Dangerous
We can't believe we have to explain this, but many people tend to forget the inherent danger that accompanies the installation process. This danger is amplified when one uses tools and equipment at a height. We have some of the most skilled employees in the industry, and even they are not immune to incidents. So rather than take the chance trying to do it yourself. Call the experts from the start and we guarantee it will be done right. Saving you time, and saving you money, essentially putting your safety first. If this all makes sense to you, then just give us a shout.
Planning
Whilst many people are just excited to get the gutters up, they tend to forget about one of the most important aspects, planning. Poor planning, or no planning at all will just end up costing you more time and money. Here at Greeley Rain Gutter Pros, we double up on everything to ensure that we only have to cut once. This system also allows us to deliver a level of consistency across the entire range of our services. So takes it from us, before you start any gutter installation process, make sure the planning is done right.
Cost
This is should not be an issue at all. And we understand that it "seems" easier to just perform constant patch jobs and gutter repairs to your existing gutter system, but remember, adding a quality gutter solution to your property does not only offer practical solutions but will also add real value to your home's price and curb appeal. Now we are by no means saying you should be taken for a ride, but one needs to make sure that the balance cost and value. Paying that little extra will save you bucket loads later down the line. We have a solution to suit every pocket, and all you have to do is tell us what you want when you want it, and we will take care of the rest.